Dental Implants
---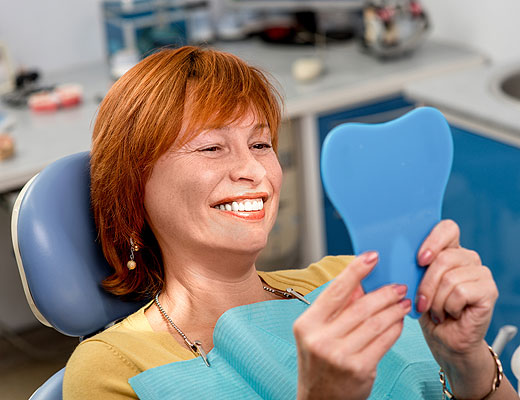 We at Keep Smiling believe in providing patient-specific care that serves the patient's
best interest. It is our goal to build long-term friendships and professional
relationships with our patients. We strive to create a relaxed and trusting
environment that enhances the care that we deliver.
We provide a full range of general and cosmetic services as well as
advanced restorative treatments, such as dental implants. It is our goal to
provide you with the personalized care and attention you deserve.
If you are missing teeth, our dentists and staff will work with you to
determine if dental implants are the right treatment option for you.
Watch the video below for more information about the dental implant
procedure.
What Are Dental Implants?
Dental implants are basically replacement teeth. If you are missing one or more teeth, an implant may be another option for you. As with crowns and bridges, implants will look, feel, and function just like your natural teeth.
Additionally, dental implants have a 98% success rate and can last a lifetime.
The Benefits of Dental Implants
Dental Implants can benefit patients in many ways:
They look, feel, and function like natural teeth
They can be more comfortable and easier to clean than other types of replacement teeth
They can help to improve/restore the ability to eat and talk properly
Like other types of replacement teeth, they can improve your self-esteem
The Requirements for Getting Dental Implants
Dental implants aren't right for everyone. If you want to get dental implants, certain criteria must be met.
You must have enough bone to support a dental implant post
Implants are not recommended until a person has stopped growing, which is usually between the ages of 16-18. This is because a patient's facial structure must be fully developed before an implant can be placed.
You must also be in good general and oral health. Certain conditions such as diabetes, periodontal disease (gum disease), or even being a smoker might prevent you from being a candidate for dental implants. Our dentists will help you to determine if implants are right for you.
Do You Need a Dentist in Beavercreek, OH?
If you need a dentist in Beavercreek, OH for dental implants or any other dental needs, please contact Keep Smiling today. We offer a warm, inviting, relaxing environment and have a genuinely kind, caring team to provide you with the highest quality dental care available.
What is a dental implant?
A dental implant consists of a titanium fixture that is inserted into the bone beneath your gums which will act as a replacement root. After some time, it will fuse with the bone and become part of the jaw structure. This fully integrated implant will then provide a foundation for a replacement crown, bridge, or even a denture. At the end of the process, it will feel and function like a natural tooth.
What is the procedure like?
The implant process can take several months to complete, but in the end, the results are well worth the time spent. In order to support the implant placement, you will need to have adequate bone structure. This may or may not require bone grafting. Once the area is prepared, the implant is placed through simple incisions made in the gums. For the next step of the restoration process, you will need to let the implants fully heal and integrate with the bone. After healing/integration, we can now place the implant-supported crown, bridge, or denture.
What are the benefits of dental implants?
A dental implant can have great benefits for both your oral health and your self-confidence. When properly
cared for, an implant can last a lifetime. Some of the benefits of implants are that they:
Add function and strength back to your mouth
Help to maintain facial structure
Look and feel like natural teeth
Restore/improve your ability to eat & speak properly
Restore/renew your smile and appearance