Pediatric Dentistry in Beavercreek, OH
---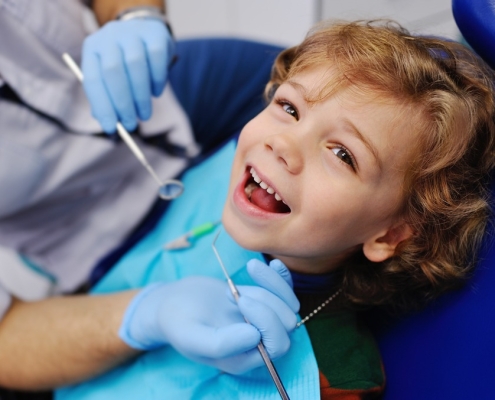 The office of Ronald L. Roddy, DDS and Joseph B. Palm, DDS is committed to providing patients of all ages with comprehensive dental care. As a family dental office, we are proud to serve individuals in every stage of life. Dr. Roddy and Dr. Palm have the skills and experience to provide care for every member of your family.
For some younger patients, we know a dental visit can make them nervous and uneasy. Our team works to make our practice environment as welcoming and positive as possible. It is our goal to help your child learn the importance of dental hygiene and help them to not fear the dentist as they age.
What Is Pediatric Dentistry?
Children's dentistry in Beavercreek, OH is sometimes referred to as pediatric dentistry. A pediatric dentist is one who has taken courses in treating children, adolescents, and those with special needs. The children's dentistry program is an additional two to three years of training beyond dental school.
What Does a Pediatric Dentist Do Differently?
A pediatric dentist has special training that teaches them how to effectively, positively, and gently treat children using the following techniques.
A children's dentist will use a friendly, calm, soothing tone of voice to help build trust with your child. This will also help reduce the chances of your child being afraid of the dentist going forward.
A pediatric dentist will know how to enthusiastically praise and reward your child for good behavior. That includes following the dentist's instructions and being still during the exam. Some dentists will even provide your child with a reward consisting of a toy or some sort of gift after each visit.
This is a technique pediatric dentists use. It consists of telling your child exactly what they are going to do. They will then show your child what they are going to do using some sort of prop or demonstration toy. Then the dentist will proceed with doing the dental procedure they just demonstrated.
Children's First Dental Visit
During their first visit, we will carefully explain what is going to happen and do our best to make it a fun, educational experience. As we examine their mouth, we will make note of the development of their mouth, teeth and bite alignment, and look for any signs of gum disease, baby bottle tooth decay, TMJ, or prolonged problems such as teething and thumb-sucking.
We take x-rays as needed, clean and polish the teeth, and apply fluoride as needed. In addition, we work to help your child understand the importance of a healthy diet, proper tooth brushing, and more.
Do You Need a Pediatric Dentist in Beavercreek, OH?
If you are looking for a dentist that is highly trained in children's dentistry, please contact Keep Smiling today. Our office provides a welcoming atmosphere where your child will feel comfortable and relaxed. And our team is committed to providing your child with a positive dental foundation that will last a lifetime.