General Dentistry
---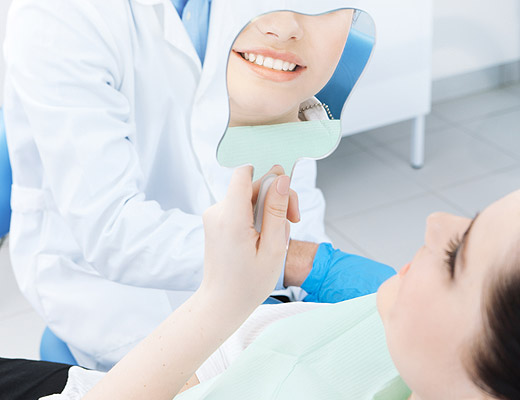 At the practice of Ronald L. Roddy, DDS and Joseph B. Palm, DDS, we offer our patients exceptionally personal care. Over the years, we have worked hard to create an atmosphere which is warm and friendly for patients of all ages. Our combination of state-of-the-art treatments, modern facilities and a traditional, caring approach has proven very inviting to patients.
We are proud to offer general and cosmetic dentistry services to everyone from young children to senior citizens. We are committed to providing you with the dental care you need and deserve. Our practice is based in Beavercreek, OH and we welcome patients from area communities including: Fairborn, Xenia, Dayton, Bellbrook, and beyond.
 Oral Exam & Cleanings
Seeing your dentist every six months for a regular exam and cleaning is recommended. This helps us monitor any changes in your dental health, including developing cavities and gum disease. These regular exams play a big role in your long-term oral health and may prevent dental problems later in your life.
 Scaling & Planing
Scaling and root planing is an effective, non-surgical way to treat gum disease. Scaling is the process of removing tartar from the surface of the tooth, while root planing is the process of smoothing out root surfaces and removing infected tooth structures. Our soft tissue management services are designed help reduce the need for surgery.
Sealants
Dental sealants are applied to hard-to-reach places and tiny areas in your mouth to prevent decay from forming. Sealants are made from plastic resin which bonds and hardens to the grooves on your tooth's surface. The sealant seals the tooth and smooths the tiny grooves, which reduces the likelihood of plaque build-up. This treatment is appropriate for both children and adults.
 Oral Cancer Screenings
Keep Smiling offers oral cancer screenings. Integrating oral cancer screenings into your regular dental visits helps to ensure that early detection can happen, but also helps to foster a proactive approach to your oral health. As part of our preventive approach, we integrate oral cancer screenings into our routine dental cleanings with the hygienists. These screenings are essential tools in the early detection and treatment of oral cancer. This practice is especially important for older folks and for those who may have higher risk factors for oral cancer.
For those who do have any of the high risk factors for oral cancer, or for anyone who suspects oral cancer is developing, independent oral cancer screenings are available. Just contact Keep Smiling to book your oral cancer screening appointment.
Digital X-Rays
By using digital x-rays in our practice, we significantly reduce the amount of radiation you are exposed to during a visit. There is also the advantage of not having to develop film, which eliminates our staff's exposure to harmful chemicals. Digital radiographs are immediately available on a computer and create more defined images that are clearer to see.
Tooth Extraction
If you have a tooth the needs to be extracted, we will work with you to discuss the available treatments and the best replacement option for the tooth. We want to make sure you are comfortable throughout the procedure and ensure you maintain your oral health.
Wisdom Teeth
Wisdom teeth — also called third molars — typically appear in young adults between the ages of 17 to 21. In the majority of cases, they need to be removed because most mouths are too small for 4 more teeth. Having your wisdom teeth removed can help prevent a range of problems down the line including: jaw and gum disease, cyst development, infections, decay, or root resorption of the adjacent tooth.
General Dentistry Services for the Whole Family
At Keep Smiling, we offer general dentistry services for the whole family.  How long has it been since your last appointment at the dentist? Call Keep Smiling today to schedule your next dental cleaning and examination.